Landscape & Hardscape Services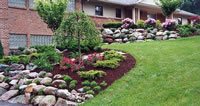 Design West Landscaping is a premier landscape design and installation company providing customized service to businesses and homes across the East Bay and Northern San Joaquin Valley area. We consider it a matter of pride that a large number of residential property owners in and around Lodi, Stockton, and Elk Grove turn to us for all their landscaping requirements.
Many homes and businesses in Galt, Dublin, and Lone sport our unique creations. If you live in Lockeford, Tracy, Woodbridge or any of the surrounding areas and need a custom outdoor space installed, we are the company to call. The ranges of services we offer include:
Landscape Design
Landscapes are more than just about installing a lawn or planting trees and shrubs. It's about making sure that all the areas are planned well and that the right types of features are installed at the right locations in the landscape. We are the experts that can provide creative and comprehensive landscape design services to both commercial and residential clients. Read More About Landscape Design >>
Landscape Design & Build
If you need end-to-end landscape design and build services, you are at the right place. We offer excellent plans and layouts that improve the functionality and aesthetics of the outdoor space. The features will all be installed to industry standards using the best quality materials. Read More About Landscape Design & Build >>
Backyard Landscape
Today, a backyard isn't just used as a space to place old and unused furniture or unwanted items from the home. People are increasingly investing in custom designed backyard design and install services like the ones that we provide our residential clients. We can incorporate features such as outdoor kitchens, fireplaces and fire pits and more. Read More About Backyard Landscape >>
Landscape Company
Your choice of Landscape Company can make or break your project. If you want a landscape that is stunning, resilient and sustainable all at once, we are the company to call. We are a fully licensed, bonded and insured company that handles residential and commercial projects of all shapes and sizes. Read More About Landscape Company >>
Landscape Lighting
The right kind of exterior lighting can add appeal and value to a property. We consider outdoor lighting to be a very important aspect of any landscaping project, plan the placement of various features strategically and use top quality fittings and fixtures in the work. Our focus is also on providing energy-efficient lighting solutions that help lower your energy bills. Read More About Landscape Lighting >>
Planting Tree/Installation
We can provide good quality, plants, and trees of all types for your landscaping project. Our team will advise you the types of plantings that will be best suited to your landscape. We have a vast variety of tree species to choose from and will handle the installation expertly too. Read More About Planting Tree/Installation >>
Sod/Hydroseeding
Our company offers both sod and seeded lawns. Both these types of lawns have some distinct pros and cons. The option you choose will be dependent on how soon you want to use the lawn, the amount of money you want to spend on it and more. Our team will provide you with all the information you need to make a more well-informed choice. Read More About Sod/Hydroseeding >>
Erosion Control
Most landscapes need some form of erosion control to ensure the soil stays in place and the plantings aren't impacted due to the loosening of soil. We use a variety of erosion control measures such as geo-textile fabric installation, sediment control system, installing erosion control plants etc. Read More About Erosion Control >>
Irrigation/Sprinkler Systems
We design and install water-efficient, customized automatic sprinklers and irrigation systems for residential and commercial properties. This job is handled scientifically and expertly, ensuring that all your plantings and lawns get the right amount of water at the right intervals. Read More About Irrigation/Sprinkler Systems >>
Site Work & Grading
Site work and grading is the first phase of most landscaping projects. This is the preparatory stage where the land may be cleared of tall grass, bramble etc. It could be excavated and leveled to create a stable ground for various features and installations. Read More About Site Work & Grading >>
Drainage
Excess of water in a landscape can impact the health of the plantings and the integrity of the hardscaping in your yard spaces. We can design customized drainage solutions and install features like French Drains, creek beds, channel drains and more. Read More About Drainage >>
Demolition
We offer reliable and safe demolition services to both, residential and commercial clients. Whether you want to clear some structures on your property for a landscape upgrade or need clear land for a new landscape installation, we can provide excellent demolition services. Read More About Demolition >>
Artificial Turf
While most homeowners like to have lawns on their property, not everyone wants to spend time maintaining it. In this situation, artificial turf becomes the best option. This "instant lawn" is quick to install, easy to maintain, looks natural and lasts for a number of years. It's suitable for both residential as well as commercial properties. Read More About Artificial Turf >>
Concrete –All Types
Most landscapes have concrete installations on them. We can design and install beautiful decorative, stained, stamped and stenciled concrete surfaces on walkways, pathways, patios as well as entranceways, courtyards and swimming pool areas as well. Read More About Concrete –All Types >>
Concrete Finishes
Today, concrete is no longer looked upon as the dull and boring material that it used to be up until a decade ago. We can create stunning concrete surfaces on your property using techniques such as stamped concrete, colored concrete, stained concrete, broom finish concrete, salt finish concrete, seeded aggregate finish, exposed aggregate finish and more. Read More About Concrete Finishes >>
Poured Concrete
We handle residential and commercial poured concrete jobs for commercial and residential clients. This technique can be used for pool decking, mowing strips, spa beds, RV parking, wall caps, utility shed pads etc.  These features will be installed using the best materials to ensure their longevity and strength. Read More About Poured Concrete >>
Masonry
Masonry is one of the best ways to enhance the appearance of the landscape. We can design and install various outdoor masonry features such as patios, retaining walls, walkways, waterscapes, fire pits, and fireplaces etc. Each of these features will be custom designed to fit in perfectly with the rest of the landscaping elements. Read More About Masonry >>
Pavers/Paving Stones
Opting for pavers and paving stones over concrete and asphalt has a number of benefits apart from just enhancing the aesthetics. They are easy to install and maintain, durable and aesthetically appealing. Installing pavers and paving stones is one of the best ways to upgrade the look of your landscape in an economical way. Pavers can be installed in almost any area of your landscaping such as driveways, walkways, patios, decks, poolscapes etc. Read More About Pavers/Paving Stones >>
Driveways
Driveways see a significant amount of wear and tear and installing pavers on these features is a great solution. We can install concrete, brick or natural stone pavers that look great, are easy to clean and are very durable and strong too. You can also opt for interlocking concrete or brick pavers for your driveway installation. Read More About Driveways >>
Pool Decks/Decking
Pool decks are a vital component of your poolscape. They not only provide a safe area to sit on or run around the pool but also add stability and appeal to the space. We can design and install your pool decking in paving of your choice including pavers or stained and stamped concrete. Read More About Pool Decks/Decking >>
Patios
A patio is a great addition to your home and when we handle this project, you can rest assured that you will get a functional and attractive patio that is extremely long-lasting too. You can choose from materials such as stamped concrete or pavers for your patio installation and these will add to the resilience and beauty of the feature. Read More About Patios >>
Walkways
Walkways are an integral part of many landscapes and in most settings, they see heavy use. We recommend the use of good quality materials such as concrete or pavers for these features. The different types of pavers you can choose from include flagstone, concrete, brick, rubber pavers etc. Read More About Walkways >>
Boulders & Rockscapes
In addition to plantings and hardscapes, a landscape also looks unique with the addition of features such as rockscapes and large boulder installations. These features will be planted with care and attention to detail in order to ensure that they blend in well with the rest of the features in that space. Read More About Boulders & Rockscapes >>
Retaining Walls
The design and installation of these specially engineered walls require skill and experience. These walls are specifically built to provide support to the landscape and prevent soil erosion. We use top quality concrete blocks that emulate the appearance of stone, to create resilient and aesthetically appealing features on your property. Read More About Retaining Walls >>
Outdoor Living
Today, homeowners like to make optimum use of the outdoor spaces of their property and the one way to do that is to get custom-designedoutdoor living features installed. We can design and build features like patios, outdoor kitchens, pool decks, gazebos, and pergolas. Read More About Outdoor Living >>
When you will settle for nothing but the best, the only company you need to approach is Design West Landscaping. Regardless of what your landscaping requirements are, our team will provide the best solutions. For any more information, or to discuss your project details, feel free to call us at 209-327-9661 or send us your requirements via this Contact Us form.